Cloverhill golf club
Armagh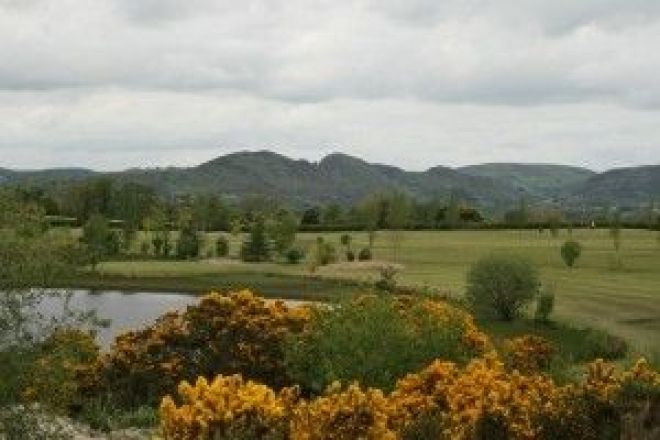 Cloverhill Golf Course

This relatively new course opened in 1999 and was designed by Robert Nelson. It is an 18-hole Parkland course measuring 5,587 yd's off the white stakes with a Par 70 and Standard Scratch of 68. The ladies tees are only slightly shorter at 5,018 yd's with a Par 72 and Standard Scratch of 70.
The course offers stunning views of the surrounding countryside it is a challenging but fair test of golf for players of all handicaps.
A warm hand of Ulster is extended to one and all in the clubhouse where full catering and bar facilities are available.
| | |
| --- | --- |
| Green Fees Midweek: | £25 |
| Green Fees Weekends & B.H. | £30 |
| Green Fees with a Member: | £10/15 |
| Green Fees for Opens: | £12/15 |
| Practice Area: | Yes |
| Club Hire: £10 | Yes |
| Buggy Hire: £15 | Yes |
| Soft Spikes: | Yes |
| Full Membership Available: | Yes |
| Full Membership Fee: | £450 |
| Full Husband & Wife Membership Fee: | £600 |
| Full 5-Day Membership Fee: | £350 |
| Full Country Membership Fee: | £200 |
| Full Ladies Membership Fee: | £250 |
| Student U-30 Membership Fee: | £300 |
| Juvenile Membership Fee: | £120 |
| Entrance Fee: | None |
| | |
| --- | --- |
| Secretary/Manager: | Colin Pilkington |
| Captain: | Justin |
| Lady Captain: | None |
| President: | Frank Ryan |
| Vice-Captain: | Noel Magill |
| Hon. Secretary: | Mark Shevlin |
| Club Pro: | Keith Shannon |
| Hon. Treasurer: | Emmett Fearon |
| Comp. Secretary: | Joe Pilkington |
Course Layout
Location Map
GPS Coord*
Lat:54.189034
Long:-6.339755
*Please check information before travelling
General Facts & Information
| | |
| --- | --- |
| Course opening hours: Daylight hours | Clubhouse opening hours: 8.00am to 11.00pm |
| Mobile phones: Not on course | Dress Code: Neat and casual, no denim |
| Catering: Full catering, facilities | Days to Avoid: None |
| Green Fees and Societies Welcome: Midweek & Weekends | Pre-booking for open Tournaments:14 Days in advance |
Cloverhill Golf Club Fixtures 2021 provisional*
| | | | | |
| --- | --- | --- | --- | --- |
| Open & Major Fixtures 2020 (to be Confirmed) | | | | |
| Event | Start | Finish | Type | Duration |
| Captain's Drive-In | Sunday 1 March | | Closed | 1 |
| President's Prize | Sunday 6 June | | Closed | 1 |
| Lady Captain's Prize | Sunday 9 August | | Closed | 1 |
| Captain's Prize | Saturday 22 August | Sunday 23 August | Closed | 2 |
| Captain's Prize | Sunday 23 August | | Closed | 1 |
| 3-Person Scramble | Monday 24 March | | Open | 1 |
| Singles Stableford | Friday 17 April | | Open | 1 |
| Singles Stableford | Monday 20 April | | Open | 1 |
| Singles Stableford | Friday 24 April | | Open | 1 |
| Singles Stableford | Friday 1 May | | Open | 1 |
| 3-Person Scramble | Monday 4 May | | Open | 1 |
| Singles Stableford | Monday 4 May | | Open | 1 |
| Singles Stableford | Friday 8 May | | Open | 1 |
| Singles Stableford | Friday 15 May | | Open | 1 |
| Singles Stableford | Friday 22 May | | Open | 1 |
| Singles Stableford | Monday 25 May | | Open | 1 |
| Singles Stableford | Friday 29 May | | Open | 1 |
| Singles Stableford | Monday 1 June | | Open | 1 |
| Singles Stableford | Friday 5 June | | Open | 1 |
| Singles Stableford | Friday 12 June | | Open | 1 |
| Singles Stableford | Friday 19 June | | Open | 1 |
| Singles Stableford | Friday 26 June | | Open | 1 |
| Singles Stableford | Friday 3 July | | Open | 1 |
| 3-Person Scramble | Sunday 5 July | | Open | 1 |
| Singles Stableford | Friday 10 July | | Open | 1 |
| Singles Stableford | Friday 17 July | | Open | 1 |
| Singles Stableford | Friday 24 July | | Open | 1 |
| Singles Stableford | Friday 29 July | | Open | 1 |
| Singles Stableford | Monday 3 August | | Open | 1 |
| Singles Stableford | Friday 7 August | | Open | 1 |
| Singles Stableford | Friday 14 August | | Open | 1 |
| Singles Stableford | Friday 21 August | | Open | 1 |
| Singles Stableford | Monday 24 August | | Open | 1 |
| Singles Stableford | Friday 28 August | | Open | 1 |
| Singles Stableford | Friday 4 September | | Open | 1 |
| Singles Stableford | Friday 11 September | | Open | 1 |
| Singles Stableford | Friday 18 September | | Open | 1 |
| Singles Stableford | Friday 25 September | | Open | 1 |
*Please check information before travelling
Card of the Course
| | |
| --- | --- |
| White | Par 70 SSS 69 5,587 yd's |
| Red | Par 72 SSS 70 5,018 yd's |
| Green | Par 70 SSS 69 4,938 yd's |
Card
| | | | | | | | |
| --- | --- | --- | --- | --- | --- | --- | --- |
| Hole No. | White | Green | Par | Index | Red | Par | Index |
| 1 | 395 | 383 | 4 | 1 | 380 | 4 | 8 |
| 2 | 297 | 280 | 4 | 12 | 286 | 4 | 11 |
| 3 | 534 | 450 | 5 | 4 | 448 | 5 | 2 |
| 4 | 140 | 135 | 3 | 9 | 136 | 3 | 12 |
| 5 | 415 | 360 | 4 | 2 | 361 | 4 | 4 |
| 6 | 527 | 430 | 5 | 5 | 426 | 5 | 1 |
| 7 | 117 | 110 | 3 | 16 | 108 | 3 | 15 |
| 8 | 230 | 215 | 4 | 15 | 210 | 4 | 14 |
| 9 | 122 | 112 | 3 | 18 | 112 | 3 | 18 |
| Out | 2,777 | 2,475 | 35 | | 2,467 | 36 | |
| 10 | 301 | 210 | 4 | 7 | 212 | 4 | 17 |
| 11 | 337 | 251 | 4 | 8 | 251 | 4 | 7 |
| 12 | 140 | 135 | 3 | 14 | 135 | 3 | 9 |
| 13 | 393 | 388 | 4 | 10 | 388 | 5 | 16 |
| 14 | 105 | 100 | 3 | 17 | 100 | 3 | 13 |
| 15 | 409 | 335 | 4 | 3 | 329 | 4 | 5 |
| 16 | 155 | 148 | 3 | 11 | 140 | 3 | 10 |
| 17 | 494 | 540 | 5 | 13 | 450 | 5 | 6 |
| 18 | 476 | 446 | 5 | 6 | 464 | 5 | 3 |
| In | 2,810 | 2,463 | 35 | | 2,551 | 36 | |
| Total | 5,587 | 4,938 | 70 | | 5,018 | 72 | |
| SSS | 69 | 69 | | | 71 | | |
Members Achievements
History of Cloverhill
Roll of Honour
| | | |
| --- | --- | --- |
| Member | Year | Hon. Position |
| Deirdre Quinn | 1999 | Ladies Captain |
| Joe Pilkington | 1999 | Men's Captain |
| Peter Mackey | 1999 | President |
| Roisin McNulty | 2000 | Ladies Captain |
| Joe Pilkington | 2000 | Men's Captain |
| Luke Murphy | 2000 | President |
| Roisin McNulty | 2001 | Ladies Captain |
| Gene McKevitt | 2001 | Men's Captain |
| Luke Murphy | 2001 | President |
| Ann Murphy | 2002 | Ladies Captain |
| Paul Owens | 2002 | Men's Captain |
| Luke Murphy | 2002 | President |
| Fionnuala Smyth | 2003 | Ladies Captain |
| Paul Owens | 2003 | Men's Captain |
| John McParland | 2003 | President |
| Anne Murphy | 2004 | Ladies Captain |
| Seamus McGivern | 2004 | Men's Captain |
| John McParland | 2004 | President |
| Fionnuala Smyth | 2005 | Ladies Captain |
| Jim McKay | 2005 | Men's Captain |
| John McParland | 2005 | President |
| Mary Toal | 2006 | Ladies Captain |
| Eamon O'Hagan | 2006 | Men's Captain |
| John McParland | 2006 | President |
| Ann McGivern | 2007 | Ladies Captain |
| Noel Williams | 2007 | Men's Captain |
| Seamus McCoy | 2007 | President |
| Anne Murphy | 2008 | Ladies Captain |
| Peter Byrne | 2008 | Men's Captain |
| Seamus McCoy | 2008 | President |
| Ann Murphy | 2009 | Ladies Captain |
| Niall Smyth | 2009 | Men's Captain |
| Seamus McCoy | 2009 | President |
| Moira Owens | 2010 | Ladies Captain |
| Charlie O'Hare | 2010 | Men's Captain |
| Noel R. Williams | 2010 | President |
| Anne McGiven | 2011 | Ladies Captain |
| John Byrne | 2011 | Men's Captain |
| Charlie O'Hara | 2011 | President |
| Helena McInearney | 2012 | Ladies Captain |
| Brian Ryan | 2012 | Men's Captain |
| Charlie O'Hara | 2012 | President |
| Michelle Boyle | 2013 | Ladies Captain |
| Colin McParland | 2013 | Men's Captain |
| Charlie O'Hara | 2013 | President |
| Maire Owens | 2014 | Ladies Captain |
| Brendan Tierney | 2014 | Men's Captain |
| Frank Ryan | 2014 | President |
| Shane O'Neill | 2015 | Men's Captain |
| Frank Ryan | 2015 | President |
| Sylvia Boyle | 2016 | Ladies Captain |
| Declan O'Neill | 2016 | Men's Captain |
| Frank Ryan | 2016 | President |
| Brigid Pilkington | 2017 | Ladies Captain |
| Seamus McParland | 2017 | Men's Captain |
| Frank Ryan | 2017 | President |
| Patrick Malone | 2018 | Men's Captain |
| Frank Ryan | 2018 | President |
| Shane Muckian | 2019 | Men's Captain |
| Frank Ryan | 2019 | President |
| Justin | 2020 | Men's Captain |
| Frank Ryan | 2020 | President |
| Fionnuala Conlon | 2020 | Lowest Ladies Handicap |
| Michael McEntaggart (5) | 2020 | Lowest Men's Handicap |
Holes in One at Cloverhill
| | | | | |
| --- | --- | --- | --- | --- |
| Member | Date | Hole No. | Club Used | Distance |
| Joe Pilkington | 21 May 2000 | 4th | 8-iron | 139 yd's |
| Joe Pilkington | 22 July 2000 | 8th | | 246 yd's |
| Pius Tierney | 10 July 2004 | 9th | | 132 yd's |
| Joe Hazzard | 24 June 2004 | 8th | 3-Wood | 230 yd's |
| Damien Riley | 21 August 2004 | 9th | Wedge | 132 yd's |
| Joe Hassard | 30 January 2005 | 16th | | 190 yd's |
| Noel R. Williams | 16 May 2007 | 16th | | 190 yd's |