Slievenamon golf club
Tipperary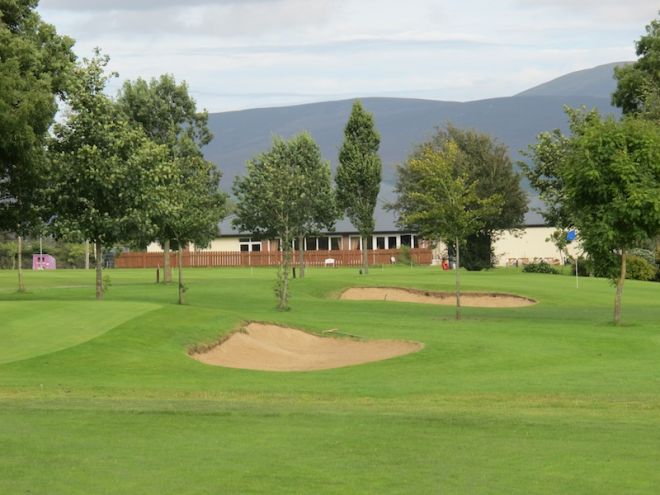 Slievenamon Golf Course

Only opened in 1999 Slievenamon Golf Club was designed by Paddy Butler and has rapidly become a warm favourite with golfers of all standards. The course offers a memorable and challenging round of golf for all to play.
Since my first visit to this club the Lalor family have made massive improvements to both course and clubhouse where a warm welcome is extended to all.
A note of caution should you take the wrong road Slievenamon can be quite difficult to find so ensure you have good directions.
| | |
| --- | --- |
| Green Fees Midweek: | €10 |
| Green Fees Weekends & B.H.: | €15 |
| Green Fees with a Member: | €10/15 |
| Green Fees for Opens: | €10 |
| Practice Area: | Yes |
| Club Hire: €5 | Yes |
| Buggy Hire: €15 | Yes |
| Soft Spikes: | Yes |
| Full Membership Available: | |
| Full Membership: | €425 |
| Country | €150 |
Secretary/Manager:
Brendan Kenny
Captain:

Lady Captain:


President:
Louise Lalor
Vice-Captain:
&

Hon. Secretary:
Brendan Kenny & Breda O'Meaa

Club Pro:
Suzie O'Brien
Hon. Treasurer:

John O'Brien &

Doreen Carty

Comp. Secretary:

Denis Burke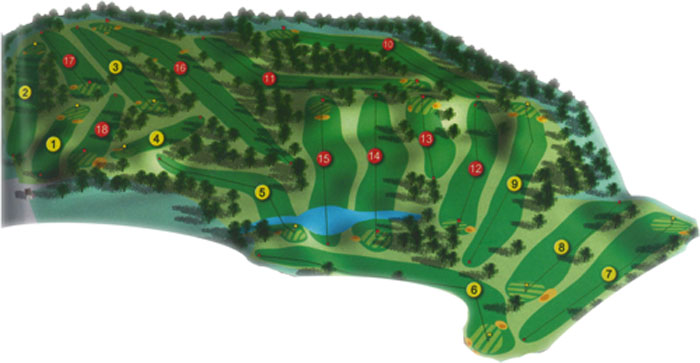 Course Layout
Location Map
GPS Coord*
Lat:52.424301
Long:-7.702188
*Please check information before travelling
General Facts & Information
| | |
| --- | --- |
| Course opening hours:: Daylight hours | Clubhouse opening hours: 8.30am to dusk |
| Mobile phones: Not on course | Dress Code: Neat and casual, no denim |
| Catering: Full catering, facilities | Days to Avoid: Sunday Mornings |
| Green Fees are Welcome: Other times | Pre-booking for open Tournaments::14 Days in advance |
Slievenamon Golf Club Fixtures 2019 provisional*
| | | | | |
| --- | --- | --- | --- | --- |
| Open & Major Fixtures 2019 (to be Confirmed) | | | | |
| Event | Start | Finish | Type | Duration |
| Captains' Drive-In | Sunday 3 February | | Closed | 1 |
| Lady Captain's Prize | Tuesday 10 June | | Closed | 1 |
| Captain's Prize | Friday 14 June | Sunday 16 June | Closed | 3 |
| Captain's Prize | Saturday 15 June | | Closed | 1 |
| Captain's Prize | Sunday 16 June | | Closed | 1 |
| President's Prize | Friday 6 September | Sunday 8 September | Closed | 3 |
| President's Prize | Saturday 7 September | | Closed | 1 |
| President's Prize | Sunday 8 September | | Closed | 1 |
| 3-Ball Scramble | Sunday 10 March | Monday 11 March | Open | 2 |
| 3-Ball Scramble | Monday 12 March | | Open | 1 |
| Singles Stableford Hamper | Saturday 23 March | Monday 25 March | Open | 3 |
| Singles Stableford Hamper | Sunday 24 March | | Open | 1 |
| Singles Stableford Hamper | Monday 25 March | | Open | 1 |
| Singles Stableford | Tuesday 2 April | Friday 5 April | Open | 4 |
| Singles Stableford | Wednesday 3 April | | Open | 1 |
| Singles Stableford | Thursday 4 April | | Open | 1 |
| Singles Stableford | Friday 5 April | | Open | 1 |
| Singles Strokes | Saturday 6 April | | Open | 1 |
| Singles Strokes | Sunday 7 April | Friday 19 April | Open | 13 |
| Singles Stableford | Monday 8 April | | Open | 1 |
| Singles Stableford | Tuesday 9 April | | Open | 1 |
| Singles Stableford | Wednesday 10 April | | Open | 1 |
| Singles Stableford | Thursday 11 April | | Open | 1 |
| Singles Stableford | Friday 12 April | | Open | 1 |
| Singles Stableford | Saturday 13 April | | Open | 1 |
| Singles Stableford | Sunday 14 April | | Open | 1 |
| Singles Stableford | Monday 15 April | | Open | 1 |
| Singles Stableford | Tuesday 16 April | | Open | 1 |
| Singles Stableford | Wednesday 17 April | | Open | 1 |
| Singles Stableford | Thursday 18 April | | Open | 1 |
| Singles Stableford | Friday 19 April | | Open | 1 |
| Singles Stableford | Friday 26 April | Sunday 28 April | Open | 3 |
| Singles Stableford | Saturday 27 April | | Open | 1 |
| Singles Stableford | Sunday 28 April | | Open | 1 |
| Singles Stableford | Friday 17 May | Sunday 19 May | Open | 3 |
| Singles Stableford | Saturday 18 May | | Open | 1 |
| Singles Stableford | Sunday 19 May | | Open | 1 |
| Singles Stableford | Wednesday 22 May | | Open | 1 |
| Club Classic | Thursday 23 May | Monday 27 May | Open | 5 |
| Club Classic | Friday 24 May | | Open | 1 |
| Club Classic | Saturday 25 May | | Open | 1 |
| Club Classic | Sunday 26 May | | Open | 1 |
| Club Classic | Monday 27 May | | Open | 1 |
| 3-Ball Scramble | Friday 31 May | Sunday 2 June | Open | 1 |
| Singles Stableford | Saturday 1 June | | Open | 1 |
| Singles Stableford | Sunday 2 June | | Open | 1 |
| Singles Stableford | Friday 21 June | Sunday 23 June | Open | 3 |
| Singles Stableford | Saturday 22 June | | Open | 1 |
| Singles Stableford | Sunday 23 June | | Open | 1 |
| Singles Stableford | Friday 28 June | Sunday 30 June | Open | 3 |
| Singles Stableford | Saturday 29 June | | Open | 1 |
| Singles | Sunday 30 June | | Open | 1 |
| 3-Ball Scramble | Thursday 4 July | | Open | 1 |
| Singles Stableford | Saturday 6 July | Sunday 7 July | Open | 2 |
| Singles Stableford | Sunday 7 July | | Open | 1 |
| Singles Stableford | Friday 12 July | Sunday 14 July | Open | 3 |
| Singles Stableford | Saturday 13 July | | Open | 1 |
| Singles Stableford | Sunday 14 July | | Open | 1 |
| Singles Stableford | Friday 19 July | Sunday 21 July | Open | 3 |
| Singles Stableford | Saturday 20 July | | Open | 1 |
| Singles Stableford | Sunday 21 July | | Open | 1 |
| Junior Scratch Cup | Friday 26 July | Sunday 28 July | Open | 3 |
| Junior Scratch Cup | Saturday 27 July | | Open | 1 |
| Junior Scratch Cup | Sunday 28 July | | Open | 1 |
| Inter Scratch Cup | Friday 26 July | Sunday 28 July | Open | 3 |
| Inter Scratch Cup | Saturday 27 July | | Open | 1 |
| Inter Scratch Cup | Sunday 28 July | | Open | 1 |
| Minor Scratch Cup | Friday 26 July | Sunday 28 July | Open | 3 |
| Minor Scratch Cup | Saturday 27 July | | Open | 1 |
| Minor Scratch Cup | Sunday 28 July | | Open | 1 |
| Singles Stableford | Monday 29 July | | Open | 1 |
| Singles Stableford | Friday 9 August | Sunday 11 August | Open | 3 |
| Singles Stableford | Saturday 10 August | | Open | 1 |
| Singles Stableford | Sunday 11 August | | Open | 1 |
| Singles Stableford | Friday 16 August | Sunday 18 August | Open | 3 |
| Singles Stableford | Saturday 17 August | | Open | 2 |
| Singles Stableford | Sunday 18 August | | Open | 1 |
| Singles Stableford | Friday 23 August | Sunday 25 August | Open | 3 |
| Singles Stableford | Saturday 24 August | | Open | 2 |
| Singles Stableford | Sunday 25 August | | Open | 1 |
| Singles Stableford | Friday 6 September | Sunday 8 September | Open | 3 |
| Singles Stableford | Saturday 7 September | | Open | 1 |
| Singles Stableford | Sunday 8 September | | Open | 1 |
| Singles Stableford Sem-Finals | Saturday 27 September | | Open | 1 |
| Halloween Singles Stableford | Friday 25 October | Sunday 27 October | Open | 3 |
| Halloween Singles Stableford | Saturday 26 October | | Open | 1 |
| Halloween Singles Stableford | Sunday 27 October | | Open | 1 |
*Please check information before travelling
Card of the Course
| | |
| --- | --- |
| White | Par 67 SSS 67 4,846 yd's |
| Red | Par 69 SSS 69 4,590 yd's |
Card
| | | | | | | |
| --- | --- | --- | --- | --- | --- | --- |
| Hole No. | White | Par | Index | Red | Par | Index |
| 1 | 155 | 3 | 8 | 150 | 3 | 8 |
| 2 | 291 | 4 | 4 | 283 | 4 | 10 |
| 3 | 287 | 4 | 16 | 287 | 4 | 2 |
| 4 | 144 | 3 | 10 | 140 | 3 | 12 |
| 5 | 282 | 4 | 14 | 277 | 4 | 6 |
| 6 | 330 | 4 | 12 | 302 | 4 | 4 |
| 7 | 261 | 4 | 18 | 255 | 4 | 16 |
| 8 | 228 | 3 | 6 | 228 | 4 | 18 |
| 9 | 354 | 4 | 2 | 350 | 5 | 14 |
| Out | 2,332 | 33 | | 2,272 | 35 | |
| 10 | 380 | 4 | 1 | 292 | 4 | 1 |
| 11 | 320 | 4 | 5 | 254 | 4 | 7 |
| 12 | 281 | 4 | 17 | 274 | 4 | 15 |
| 13 | 164 | 3 | 3 | 160 | 3 | 9 |
| 14 | 323 | 4 | 13 | 317 | 4 | 5 |
| 15 | 286 | 4 | 11 | 281 | 4 | 3 |
| 16 | 480 | 5 | 15 | 469 | 5 | 17 |
| 17 | 202 | 3 | 7 | 198 | 3 | 13 |
| 18 | 178 | 3 | 9 | 173 | 3 | 11 |
| In | 2,614 | 34 | | 2,318 | 34 | |
| Total | 4,846 | 67 | | 4,590 | 69 | |
| SSS | 67 | | | 69 | | |
Notable rounds
Men's Course Record: 65 Denis Burke
Ladies Course Record:
Members Achievements
History of Slievenamon
Roll of Honour
| | | |
| --- | --- | --- |
| Member | Year | Hon. Position |
| Margaret O'Brien | 1999 | Ladies Captain |
| Pat Lenergan | 1999 | Men's Captain |
| Kevin Lalor | 1999 | President |
| Rena O'Kelly | 2000 | Ladies Captain |
| Pat Lonergan | 2000 | Men's Captain |
| Kevin Lalor | 2000 | President |
| Patricia Leonard | 2001 | Ladies Captain |
| Ernie Makim | 2001 | Men's Captain |
| Kevin Lalor | 2001 | President |
| Marie Delaney | 2002 | Ladies Captain |
| Denis Burke | 2002 | Men's Captain |
| Kevin Lalor | 2002 | President |
| Joan Morrissey | 2003 | Ladies Captain |
| Des Delahunty | 2003 | Men's Captain |
| Kevin Lalor | 2003 | President |
| Ann Fitzgerald | 2004 | Ladies Captain |
| Denis O'Sullivan | 2004 | Men's Captain |
| Kevin Lalor | 2004 | President |
| Rosemary Lalor | 2005 | Ladies Captain |
| Declan Heafy | 2005 | Men's Captain |
| Kevin Lalor | 2005 | President1 |
| Ann Delahunty | 2006 | Ladies Captain |
| William Phelan | 2006 | Men's Captain |
| Kevin Lalor | 2006 | President |
| Margaret Comerford | 2007 | Ladies Captain |
| John O'Brien | 2007 | Men's Captain |
| Margaret Lalor | 2007 | President |
| Kay Walsh | 2008 | Ladies Captain |
| Joe Pollard | 2008 | Men's Captain |
| Margaret Lalor | 2008 | President |
| Mary Kenrick | 2009 | Ladies Captain |
| Ian Gouge | 2009 | Men's Captain |
| Margaret Lalor | 2009 | President |
| Bernie Phelan | 2010 | Ladies Captain |
| Seamus Mullins | 2010 | Men's Captain |
| Margaret Lalor | 2010 | President |
| Patricia Walsh | 2011 | Ladies Captain |
| Seamus McGowan | 2011 | Men's Captain |
| Margaret Lalor | 2011 | President |
| Kathleen Shanley | 2012 | Ladies Captain |
| Seamus McGowan | 2012 | Men's Captain |
| Margaret Lalor | 2012 | President |
| Chris Hayes | 2013 | Ladies Captain |
| Robert Reid | 2013 | Men's Captain |
| Margaret Lalor | 2013 | President |
| Ann Maher | 2014 | Ladies Captain |
| Kieran Cunningham | 2014 | Men's Captain |
| Margaret Lalor | 2014 | President |
| | 2015 | Ladies Captain |
| Thomas Butler | 2015 | Men's Captain |
| Margaret Lalor | 2015 | President |
| Carmol Condon | 2016 | Ladies Captain |
| Pat Slattery | 2016 | Men's Captain |
| Margaret Lalor | 2016 | President |
| | 2017 | Ladies Captain |
| | 2017 | Men's Captain |
| Margaret Lalor | 2017 | President |
| | 2018 | Ladies Captain |
| | 2018 | Men's Captain |
| Margaret Lalor | 2018 | President |
| | 2019 | Ladies Captain |
| | 2019 | Men's Captain |
| | 2019 | President |
| | 2019 | Lowest Ladies Handicap |
| Denis Burke (7) | 2019 | Lowest Men's Handicap |
Holes in One at Slievenamon
| | | | | |
| --- | --- | --- | --- | --- |
| Member | Date | Hole No. | Club Used | Distance |
| Bob Sullivan | 8 March 2002 | 6th | | 163 yd´s |
| Peter O´Brien | 28 September 2002 | 6th | | 170 yd´s |
| Ben Johnson | 16 November 2002 | 2nd | | 191 yd´s |
| Andrew Donovan | 3 June 2004 | 4th | | 144 yd´s |
| David Walsh | 25 June 2004 | 4th | | 144 yd´s |
| Joe Corbett | 28 January 2006 | 1st | | 155 yd´s |
| Gerry Dorney | 21 May 2007 | 18th | | 178 yd´s |
| Seamus McGowan | 23 February 2008 | 18th | | 178 yd´s |
| Alec Owens | 26 August 2009 | 4th | | 151 yd´s |