Swinford golf club
Mayo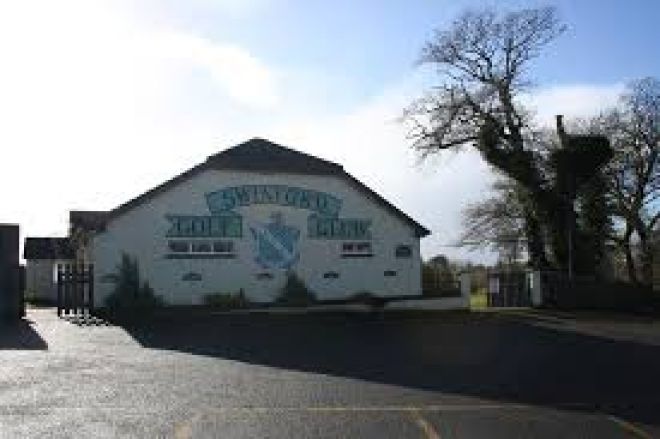 Swinford Golf Course

Swinford Golf Club is a delightful mature parkland course in a beautiful setting. With mature trees coming into play requiring accuracy off the tee before playing to well protected greens. A stream comes into play on the 3rd 5th and 6th the course is always kept in the best of condition and the hospitality and friendliness of the members has to be experienced to be believed.
Founded in 1922, measuring 5,430 metres Par-70 with a standard scratch of 68 the course record is a fine 65 shot by L. Halpin.
| | |
| --- | --- |
| Green Fees Midweek: | €20 |
| Green Fees Weekends & B.H.: | €20 |
| Green Fees with a Member: | €20 |
| Green Fees for Opens: | €10 |
| Practice Area: | Yes |
| Club Hire: | No |
| Buggy Hire: | No |
| Soft Spikes: | No |
| Full Membership Available: | Yes |
| Full Gents Membership: | €380 |
| Full Ladies Membership: | €380 |
| Full Beginners Membership: | €180 |
| Full 2nd Year Beginners Membership: | €230 |
| Full Lapsed Membership: | €230 |
| Full Country Membership: | €230 |
| Full Distanced Membership: | €230 |
| Full Student Membership: | €160 |
| Full Junior U-18 Membership: | €70 |
| Full Junior U-13 Membership: | €50 |
| Full Overseas Membership: | €1,000 |
Office Secretary:
Marian

Captain:
Sean Comer
Lady Captain:
Margaret Haran
President:
Bernie Walsh
Vice-Captains':
& Hilary McCrohan
Hon. Secretary:
John Sheahan

& Dympna O'Donnell

Club Pro:
None
Hon. Treasurer:
Ann Moore & Bernie Walsh
Comp. Secretary:

Gerry Ronayne & Annie McNeela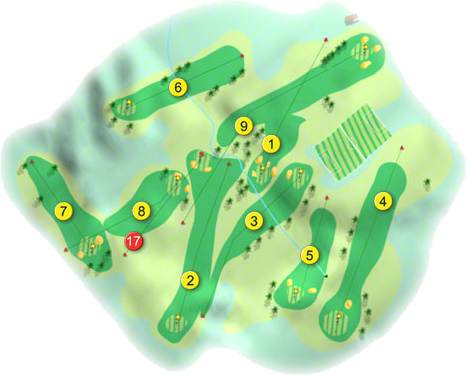 Course Layout
Location Map
GPS Coord*
Lat:53.935932
Long:-8.952726
*Please check information before travelling
General Facts & Information
| | |
| --- | --- |
| Course opening hours: Daylight hours | Clubhouse opening hours: All day |
| Mobile phones: Not on course | Dress Code: Neat and casual |
| Catering: Full catering, facilities by prior arrangement | Days to Avoid: Sunday |
| Green Fees and Societies Welcome: Other Days | Pre-booking for open Tournaments: None |
Swinford Golf Club Fixtures 2023 provisional*
| | | | | |
| --- | --- | --- | --- | --- |
| Open & Major Fixtures 2023 (Confirmed) | | | | |
| Event | Start | Finish | Type | Duration |
| Captains' Drive-In | Saturday | | Closed | 1 |
| President's Prize | Saturday 17 June | | Closed | 1 |
| Lady Captain's Prize | Saturday 8 July | | Closed | 1 |
| Captain's Prize | Saturday 29 July | | Closed | 1 |
| Vice-Captain's Prize | Saturday 19 August | | Closed | 1 |
*Please check information before travelling
Card of the Course
| | |
| --- | --- |
| White | Par 70 SSS 68 5,398 m |
| Red | Par 70 SSS 71 4,479 m |
Card
| | | | | | | |
| --- | --- | --- | --- | --- | --- | --- |
| Hole No. | White | Par | Index | Red | Par | Index |
| 1 | 263 | 4 | 17 | 263 | 4 | 13 |
| 2 | 348 | 4 | 1 | 307 | 4 | 1 |
| 3 | 363 | 4 | 6 | 292 | 4 | 3 |
| 4 | 159 | 3 | 10 | 131 | 3 | 16 |
| 5 | 443 | 5 | 14 | 362 | 5 | 6 |
| 6 | 346 | 4 | 3 | 280 | 4 | 8 |
| 7 | 301 | 4 | 12 | 237 | 4 | 12 |
| 8 | 184 | 3 | 5 | 104 | 3 | 18 |
| 9 | 313 | 4 | 8 | 252 | 4 | 10 |
| Out | 2,720 | 35 | | 2,228 | 35 | |
| 10 | 263 | 4 | 18 | 263 | 4 | 14 |
| 11 | 353 | 4 | 2 | 307 | 4 | 2 |
| 12 | 363 | 4 | 7 | 293 | 4 | 4 |
| 13 | 159 | 3 | 11 | 131 | 3 | 17 |
| 14 | 443 | 5 | 15 | 362 | 5 | 7 |
| 15 | 346 | 4 | 4 | 246 | 4 | 9 |
| 16 | 301 | 4 | 13 | 265 | 4 | 5 |
| 17 | 137 | 3 | 16 | 132 | 3 | 15 |
| 18 | 313 | 4 | 9 | 252 | 4 | 11 |
| In | 2,678 | 35 | | 2,251 | 35 | |
| Total | 5,398 | 70 | | 4,479 | 70 | |
| SSS | 68 | | | 71 | | |
Notable rounds
Men's Course Record: Am. 65 L. Halpin
Ladies Course Record:
Members Achievements
winford Golf Club won the Connaught Final of the Jimmy Bruen Shield at Castlebar Golf Club on Sunday 8th August 2010, when they beat Athenry Golf Club by 4 matches to 1 match having beaten Strandhill Golf Club in the morning semi-final by 3½ matches to 1½ matches.
First on the tee was Sean Geraghty with Niall McNicholas who went all the way to the 22ndbefore winning the point against Enda Heneghan with Patrick Croghan, they were followed by Eamon Byrne with Tomas Geraghty against Ronan Coffey with Brian Scully, this also went into extra-time when it finished on the 19th. Next up was Sean Kavanagh with Simon Ronanewho beat Martin Forde with Stephen Rabbitt by 2-holes. The penultimate match of Cathal Quinn with Kevin Feeney against Norman Farrell with David McDonagh was called in on the 17th hole as was the match between David Ronane with Niall O'Neill against Brian O'Reilly with Pierce Scully the match being all-square at the time.
They made their way back up the road to Castlebar Golf to compete in the National decider where they were drawn against Ulster Champions Tandragee Golf Club in the All-Ireland Semi-Finals on Friday 17th September.
First on the tee Sean Geraghty with Niall McNicholas against Gordon Haire with Johnny Quinn went 3 and 2 to the Armagh men, next up was Eamon Byrne with Tomas Geraghty against Stefan Greenberg with Mark Bannerman this match went 2 and 1 to the men from Swinford, they were followed by Sean Kavanagh with Simon Ronane who lost their match by the narrowest of margins with a 1-hole victory for Ryan Harpur with Warren Jardine. The penultimate match of Michael Rooney with Kevin Feeney lost their match by 2 and 1 against Ross Dutton with Stefan McNeill and with it their hopes of reaching the All-Ireland Final and the bottom match of David Ronane with Niall O'Neill was halved against Emmit Nixon with Jeff Forde. Tandragee went on to play Leinster Champions Clontarf Golf Club the following morning in the decider
Swinford Golf Club were runners-ups the Connacht Shield when they lost to Ballinasloe Golf Club by 6 matches to 4 matches on Saturday 7th October 2006.
The first leg was played at Swinford Golf Club on Sunday 1st October with Swinford taking advantage of their local knowledge to record a 3 and 2 win over the visitors.
First up were Brian Conneely with Tony Broderick against Eamon Byrne with Brian Reynolds when the Mayo men won their match on the 19th. They were followed by Declan Murphy with Declan Flannery who lost out to Tomas and Sean Geraghty by 2 and 1. Next up were Brendan Naughton with Ollie Colgan against Charlie and Cathal Quinn again the match went to the men from Swinford by 3 and 2. Dermot Dunican with Frank Donohue beat Michael Rooney with Niall O'Neill by 2-holes, the final match saw Enda Finn with Mark Conneely beat Declan Loftus with John Kelly by 4 and 3.
The Second Leg was played at Ballinasloe Golf Club on Sunday 7th October where Ollie Colgan now partnered with P. Whelehan lost out to Eamon Byrne with Brian Reynolds by a single hole. They were followed by Brendan Naughton with Mark Conneely had a convincing 4 and 3 win over Charlie and Cathal Quinn. Next up were Dermot Dunican with Frank Donohue who trashed Tomas and Sean Geraghty by 8 and 7. The penultimate match of Tony Broderick with Brian Conneely had a comfortable 5 and 4 win over John Kelly with D. Ronayne. The final match of Declan Murphy with Declan Flannery against Declan Loftus with D. Fadden ended with a 2 and 1 win for the Galway men.
E. Connor won the Connacht Veterans Open Championship at Oughterard Golf Club on 13th September 2006, when he returned rounds of 78 and 75 to beat B. Eriksson (Hassleholms G. C.) on a count-back, with Greystones Eddie Condren a shot further back on 154.
2004 Lady Captain Julie Loftus (16) and her Captain's Prize Winner Patricia Lavin (17) were qualifiers with 36 pts. in the Volkswagen-Irish Independent Lady Captain's Classic at Co. Sligo Golf Club in August 2004 they qualified for the National Finals at Hermitage on 4th October.
Swinford Golf Club won the County Cup at Ballina Golf Club on 12th September 2002 when the team was John Kelly, Matt Duggan, John Rooney, Darren Fadden, Michael Rooney, Enda Gurren, Brian Reynolds, Eamonn Byrne, Niall O'Neill, Ivan Maloney and they were captained by Tom Regan. The team were 18 shots clear of Ballinrobe the runners up.
Prior to 2001:
Swinford Golf Club, were Connaught Shield Finalists in 1995, when the team was, Eamonn Byrne, Kevin Grealy, John Condon. Tom Regan, Cathal Quinn, Willie Kavanagh, Tony Spain, Padraic Buckley, John Forkan, Niall O'Neill, John Kelly, Charlie Quinn and Ted Lawless. They were captained by Donal Benson and managed by Owen Roe O'Neill.
They won the G.U.I. Connaught Aer Lingus Club Youths in 1983.
The Kenny Cup in 1982.
Swinford won the Connaught Irish-Schools Championship in 1980 and 1979 and the Connaught Smurfit Juvenile Girls Golf in the same years.
Joseph Gallagher won the Co. Mayo Junior Cup Tournament at Westport Golf Club in September 2001.
Members who played representative golf for Country or Province;
Declan Loftus represented Connacht at Senior Interprovincial level in 2009 playing 3-times won 2-matches and lost 1-match accumulating 4-points. He represented Connacht as a Youth Interprovincial in 2009 playing 5-times won 0-matches halved two and lost 3-matches accumulating 2-points. He represented Connacht at the Boys Interprovincial in 2008 playing 6-times won 3-matches and lost 3-matches accumulating 6-points;
P. Beirne represented Connacht at Senior Interprovincial level from 1956 to 1967 playing 28-times won 11-matches halved three and lost 14-matches accumulating 25-points;
Aidan Benson represented Connacht as a Youth Interprovincial in 1981 playing 3-times won 0-matches halved one and lost 2-matches accumulating 1-point;
Niamh O'Neill played for the Irish Girls' in 1979;
History of Swinford
Instituted 1910 affiliated 1922
The present course at Swinford was laid out by Major Benson of Rosses Point in 1930. There is some confusion as to when golf was first played at Swinford 1917 would appear to be the likely date. In April 1919, land was leased from the nuns in the Convent of Mercy, in an area known as Brabazon Park, was leased as a public park.
The 50th Anniversary brochure of the club records "The newly arrived nuns were astonished at the sight of reputable citizens, hitting a little white ball round the park" During the troubles, the Argyle and Sutherland Highlanders, who were billeted in Swinford, took their time off on the golf course and the local IRA retaliated by ploughing up the greens. The club affiliated to the GUI in 1922, and the first recorded officers were Captain, C. A. Bowles, and the Hon. Secretary was Paddy McManus.
The history of our club has been well documented with the publishing of the Anniversary booklets of 1972 and 1997. The following are exerts from these archives.
As a club which has celebrated the 75th anniversary of its founding we can certainly look back with pride on reaching such a notable milestone in our history. Like all success stories, we begin at the birth of our club and over the next few pages we reprint from the Golden Jubilee booklet published in 1972.
Brabazon Park
Our story begins where the golf began, in Brabazon Park, the seat of a minor, though well-connected family of the landed gentry. Sir William Brabazon, who died in 1840, was M.P. for Mayo. He was succeeded by his nephew, Major Hugh Brabazon. Shortly after Major Brabazon's death in 1864 the family departed for England. The last of the Brabazon's to visit Swinford was Colonel Sir John Palmer Brabazon who came in 1877 with his sisters for a few days. He was a close friend of Winston Churchill who described him as "one of the brightest military stars in London society". He was also destined to be Swinford's last landlord.
The Congested Districts Board acquired the estate from him in the early years of this century. He died in Switzerland in 1923. The Brabazons are today remembered in the Park where the Golf Course is situated which is called after them and by the Brabazon Cup which is played for annually.
The Park Trustees
In 1916, the Convent of Mercy acquired Brabazon Park House and some land from the Congested Districts Board. On the 28th April, 1919, Brabazon Park was committed to the care of a number of trustees. The original trustees were Dean Connington, B. F. Cunniffe, Michael F. Campbell, Michael J. Campbell, Patrick O'Connor, Solicitor, Thomas Morrin, J. P. and Patrick O'Hara, Swinford, thus became almost unique for a town of its size having a community owned public park.
The Golf Club pays an annual rent for the use of the park. The original rent of £10 had grown to £60 by 1947 and now stands at £120 (1972). The relationship between the Golf Club and the Park Trustees has always been very good. In the lean years of the early 'forties' the rent was halved for £60 to £30 enabling the Golf Club to survive.
The early years: 1917-'22
Golf, which was still something or a rarity in the West outside the larger centers such as Sligo and Galway, was first played in Swinford about 1917. Dr. E. Mulligan, who died in 1920, is reputed to have returned to Swinford a few years previously already a keen enthusiast of the game. The newly-arrived nuns in Brabazon Park House were astonished at the sight of reputable citizens "hitting a little white ball round the Park." During the "Troubles" the Argyle and Sutherland Highlanders who were billeted in Swinford took their time off on the golf course and the local I.R.A. retaliated by ploughing up the greens.
The Old Course 1922-'29
In 1922 Swinford G.C. was affiliated to the Golfing Union of Ireland. The earliest recorded officials of the club are Paddy McManus, who was secretary, and C. A. Bowles, who was possibly captain. Both of them represented Swinford G.C. at a meeting in Claremorris called to set up an Inter-club competition for the county. Swinford played host to Castlebar on Sunday, 31st April, and the home side won 8-5 in the singles and 4-2 in the foursomes. They played Balla on Sunday, 4th June. The old course began at the present sixth and ended on the present fifth with some minor changes throughout.
A feature of the course then was the great number of trees, many of which have fallen since. The entrance to 'Dooneen' was guarded by two giant oaks whose spreading branches nipped many a fine drive in the bud. Another great oak stood to the right of the present 9th green and served for hanging coats. Standards had risen considerably by 1924 when Swinford reached the 4th round of the Mayo Cup, being defeated by Ballina in Ballina on the new course opened there that year. McManus and O'Neill were Swinford's only winners.
Between 1925-1930, membership increased from 30 to 100 with country members standing at 23 in that year. Fund raising activities are a feature of 1928, with a whist drive, a very successful golf dance in the Cliff Hotel, Enniscrone, and a donkey derby which realised £20, and plans were laid for a new course and Pavillion.
The New Course 1929-'30
In 1929 a loan of £100 was raised in the Provincial Bank, the guarantors being Rev. T. Morrin, C.C., Rev. G. Hannon, C.C., Patrick J. Durkin, Patrick McManus, Dominic S. Walsh, Captain Frank Douris, Dr. Michael Henry, Michael P. Horkan, William F. Gallagher, James Foley, C. B. Adams. Construction of the Pavillion began which was ready for the new season of 1930. Paddy McManus called on the services of Major Benson of Rosses Point to design a new course. The result was the present course. As evening golfers began by playing into the sun, thus losing a lot of balls, and as it was regarded as most desirable to have competitions finishing beside the Pavillon, the present order of the holes was established. French drains were laid under the 5th as it tended to be marshy. A unique feature of the new course was the raised tees which still evoke considerable comment from visiting golfers. In this work the secretary was ably assisted by Dick Henry. The lockers were ready for members in 1930 at the rent of five shillings, the membership fee being then £1.
The club had just gained two perpetual trophies: The Dr. Mulligan Cup was presented to the club in 1929 in memory of Dr. Eddie Mulligan the Bishop of Achonry, a frequent player on the course, donated the Dr. Morrisroe Cup in 1930.
The year 1930 was a peak one in the club's history with country members from Ballymote, Ballina, Tubbercurry, Charlestown, Kiltimagh and Kilkelly. Competitions ran from May to October and the fixtures were as follows: 2nd May - stroke competition, prize 17 Ace golf balls 10th May - Captain's prize 31st May - Ladies competition 19th June - Mulligan Cup 5th July - Priests' competition 15th July - mixed foursomes 23rd September - ladies competition 11th October - P. Feeney's prize October - The Bishop's Cup. The two cups, Captain's prize, mixed foursomes were match-play competitions which continued to be the most popular form of competition until the early fifties.
The Lean Years
Paddy McManus finally relinquished the post of secretary in 1937 with the club firmly on its feet, and Swinford was fortunate in finding another outstanding secretary to replace him, Mr. Thomas M. Whelan. He was ably assisted by Miss Patricia Egan who succeeded him as the club's only lady secretary. Two other ladies who played an active role during these years were Ms. P. McQuinn and Miss Cahill, teachers in the Park House. The ladies were presented with a fine perpetual trophy by Fr. Morrin, C.C., in 1936. Fr. Morrin was a keen member ever since his first appointment to Swinford as a curate in 1925.
In 1939 the club staged a rather unique competition knows as 'Jack's Prize'. Jack was of all things, a dog, the property of M. A. Ryan, manager of the provincial Bank. Jack was every golfer's dream dog, a finder of lost golf balls. In that year he unearthed no less than eighty balls which Mr. Ryan offered as a prize to the club. Forty were won by Bernie O'Connor and M. K. Colgan the remaining forty being shared between W. Ormsby and B. Howley. These golf balls played a very important role in helping the club to survive the shortage of golf balls due to the war. But they were difficult years.
It was the time when the fifteen-odd members began the season by signing a promissory note in the bank for £30, the reduced rent, and when a 9-hole competition consisted in the players walking from one green to the next and 'putting the four corners,' as they could not afford to have the fairways cut. But it survived thanks to the 'half-a-crown fourball-shilling on dykes' of regulars like Michael Joe Cassidy, Jack Doris, Fred Cahill, Bill Ormsby, William Swords, Tom Carney, Frank Douris, Michael Egan, John Loftus, etc.
Revival 1945-'58
After the war the fortunes of the club began to improve. Canon Higgins, who first came to Swinford as a Curate in 1922, donated two fine perpetual cups for open competitions for men and women. The first open day was a spectacular affair with Cecil Ewing, captain of the Walker Cup team, teeing off with Bill Ormsby. He carded a 72 and Ormsby a 73, Jim Loftus won the cup. The club reached its peak for the second time in the early 'fifties, recording over a 100 members. Standards also rose. Single figure men were becoming common. The climax was reached in 1953 when Swinford won the Connaught Shield from Ballina, with Bill Ormsby deciding the issue on the twentieth. It was the last year of the singles. Swinford reached the finals again in the following year but were defeated by Mountbellew in the new foursomes competition.
Swinford was also making a name for itself in the wider world of golf. Two Swinford players Seamus McHugh and Barney O'Beirne reached the last eight in the West of Ireland. The diminutive McHugh, a 9-handicapper, caught the popular imagination as a giant-killer, taking the international Michael Edwards 2 and 1 before going out to the eventual winner, T. Mahon, McHugh later played in the Irish Close in Galway.
Barney O'Beirne, a scratch player and interprovincial was the greatest golfer Swinford ever produced. In 1962 he was defeated by Joe Carr in the final of the West of Ireland. His tragic death in the 1968 Viscount crash was nowhere felt more acutely than in Swinford Golf Club.
In the Doldrums again
The fortunes of the club sagged again in the '60s with membership to a record low of fifteen members in 1962. But even then it had its moments of glory. In 1960 and again in 1969 Swinford, acting as the host club to the county, won the County Cup with McHugh taking the Scratch Cup on both occasions. In 1962 Swinford again reached the final of the Connaught Shield, to be defeated by Ballina. That year, too, McHugh reached the last eight in the play-off for the Evening Herald Golfer of the Year Trophy, a feature repeated by Bill Ormsby.
In 1962 Fr. Martin McManus donated the African Cup, in honour of African Missionaries of the club, in particular Fr. Gerry Lambe, C.S.Sp., and Fr. Denis McManus, son of the club's first secretary.
An extension to the clubhouse was added in 1960 providing a bar and in 1970 with the co-operation of the Park Trustees, a car park was added.
The Second 50 Years
The late Harry Brennan, as men's Captain, ushered in the second half century for the club in 1973. Membership began to increase slightly in the early 70s with the age profile of new members getting gradually lower. This influx of new and younger members augered well for the future of the club. The 70s and early 80s proved to be a glorious chapter in the Club's history, principally through the efforts and success at national level of our teenage golfers, both boys and girls.
In 1979, '80, and '83 our schoolboys team won the Connacht Schools Championships and advanced to the National Finals. They won the Kenny Cup in 1982 for boys under 18. In 1983 they won the Connacht final of the Aer Lingus youths and again advanced to the National Finals.
It is worth noting that all these young stars are still playing golf at a high level today. John Harnett has been, for the past few years, the Club Professional at Milltown Golf Club in Dublin. Gerry Ronane also qualified as a professional and commenced his career in Wexford Golf Club.
The Benson brothers - all single handicappers - are still bisecting the fairways both in Ireland and the United Kingdom. Noel, Don, Aidan and David were part of those teams in the 70s and 80s, and later on Paul and Eugene followed in the footsteps of big brothers.
In recent years Paul has been capped for Connacht as well as being a regular on the m
Mayo inter-counties team which has reached the finals of the Jonnie Walker sponsored national event, ably captained by Donal Benson, patriarch of the golfing dynasty. Pete Walsh (Junior), Eamonn Brady, Eddie Kelly and John Sheehan also contributed to the success of those great years.
Among the stories that will be told are retold for many a year will be John Sheehan taking an up-and-coming Dublin golfer to the 17th hole in the schools final in 1980. His opponent's name? Philip Walton, hero of the Ryder Cup in 1995. John still maintains that Philip got him on an off-day! (Dream on, John).
The girls, not to be outdone, also carried the flag in style during those years. Niamh O'Neill and Sinead O'Kelly ruled the roost in girls golf in Connacht for a few years. They also scaled the heights of national finals, winning in 1979 and 1980. Niamh, without doubt the finest female golfer the club has ever produced, was honoured by being selected for Ireland in 1979 and played in the Home Internationals over the famous Wentworth course, home of the World Professional Matchplay event. She is still playing golf to a high standard and in recent years has played at county level for Surrey where she now resides.
One of the main reasons for Swinford's success during those years was the support, encouragement, time and effort by many of the parents of our young stars.
Swinford Golf Club was a byword in national underage golf circles in those years and every player was a credit to the club, thereby ensuring that Swinford Golf Club was held in the highest esteem.
A lot of effort in the 70s and early 80s was applied in bringing about improvements to the course and clubhouse. In 1977, captain Charlie Quinn bought up plans to extend the original clubhouse, adding on ladies' and gent's washrooms.
In 1980 the first major addition to the clubhouse - an extensive new bar and lounge - was opened during the captaincy of Donal Benson and Mary O'Connor. The plan for the extension were the work of the then Vice-Captain, Luke O'Malley. During this decade we also brought about the relocation of livestock which had shared the fairways - and sometimes the greens - with us for many years.
With the end of sheep and cattle on the course, we were able to remove the wire fencing which had enclosed all nine greens. This brought about a major improvement in the overall appearance of the course. We were thus able to extend the greens and tees, and locate new bunkers at all nine holes.
In 1993 we said goodbye to the final portion of our original corrugated iron clubhouse with the opening of new locker rooms, foyer, office and toilets/showers by Captains Tony Spain and Josie Prendergast. Monsignor Sean Leonard, P.P., blessed the new extension and paid fulsome tribute to the dedication and efforts of the members of Swinford Golf Club who now had a clubhouse that compared with the best.
Year 2002 under the leadership of incoming Chairman and Captain Kevin Quinn we saw the commencement of a ten year plan to upgrade the course. Two new greens, four new tee boxes and several new bunkers have been constructed by European Golf Services.
While all course and clubhouse developments were taking place, activity on the course continued apace. Our teams played in all the G.U.I. golfing competitions and the ladies also turned in great performances in the I.L.U.G. competitions.
Among our successes were the Men's County Cup-winners in 1963, 1991 and 1993 2002 Connacht Shield-winners in 1953 Ladies' County Cup-winners in 1987 Connacht junior foursomes-runnerup, 1986 Connacht Shield runners-up, 1995.
Our victorious County Cup teams of 1991 and '93 were captained by Tom Keane and Donal Benson whose vast experience and astute selections bore fruit on both occasions. They had a perfect blend of youth and experience in action and this proved very successful.
Our ladies, too, flew the flag in style over the years, and although not too often reaching the winners enclosure, they played on every occasion with style and grace, thereby enhancing the club's reputation on the circuit. Over the home course in 1987 they proved victorious in the County Cup with Mary Smyth, Lady Captain, urging them on throughout the day. Sinead O'Kelly made it a local double by winning the individual prize for the best score.
Our junior foursomes team of 1986 lost by the odd match in three to Loughrea in the final. Sadly two members of that side, Owen Roe O'Neill and Eamonn McAndrew, passed away within a few weeks of each other in 1996.
Another long-standing and probably the most frequent player on the course for many years, Dr. Joe Cullen, also died in 1996. Another lamented passing in recent years was Harry Brennan who, not only an excellent golfer, but provided musical entertainment on many a joyous occasion in the Clubhouse. As one who played many a round with all four, I can say that a more sporting, entertaining and enjoyable quartet would be difficult to find. May they rest in peace.
Although only a 9 holes course, we have produced golfers who have scaled the heights at representative level. Barney O'Beirne reached the West of Ireland final in the early 60s only to lose to the great Joe Carr of Sutton. Barney was subsequently capped for Connacht.
In 1995 another Swinford man reached the same stage - Sean Horkan, who plays at Walton Heath in England losing to another Walker Cup player, Garth McGimpsey. Sean has since been honoured by being elected an honorary life member.
Another player who advanced to the later stages of the West of Ireland was Seamus McHugh who reached the last eight in the 1950s.
Paul Benson was the next to qualify for the matchplay stages of the West - a feat he also achieved in the annual South of Ireland event played in Lahinch. One handicapper, Paul has a formidable record at schoolboy and youth level - his wins include the Connacht Close under 16 in 1981 and under 18 in 1982 reached the final of the Munster Boys Championship in 1984 where he lost on the 18th 4th in the Leinster boys in 1981 6th in the Irish Boys in 1983 reached the last 16 in the South of Ireland in 1993 in Lahinch. All his efforts were crowned with selection for the Connacht senior team in 1996.
Among the present membership, the names Kennedy, Geraghty, Duffy, Loftus, Rooney and Thornburg are showing great promise
The club is fortunate that it has a substantial junior membership and no doubt we will have future captains - as well as good golfers - among their ranks.
No history of any Golf Club would be complete without recording the thanks of all members to those who have maintained our course to such a high standard over the years. During many summers the late Matt Groarke tended to the greens with a loving and dedicated approach. A most loyal, dedicated and vastly experienced greenkeeper, Matt devoted years of his skill in ensuring that Swinford had a golf course to compare with the best. He was, on his retirement, fittingly and most deservedly elected an honorary life member. Sadly, Matt is no longer with us to celebrate our 75th year - he passed away unexpectedly a few short years ago.
Our present greenkeeper, Michael Farrelly, has carried on Matt's proud standard and tradition. With larger greens, tees and bunkers now a feature of our course, Michael has further enhanced the reputation which our course enjoys far and wide. Many visiting golfers - literally from all over the world - have sung the praises of our picturesque yet challenging track and have commented most favourably on the manner in which it is maintained. We can count ourselves fortunate in acquiring the services of two first-class and dedicated greenkeepers. In recent years we have also benefited from the efforts of those employed on FAS schemes. Many valuable improvements have been brought about by the members of these teams and our gratitude is extended to all who played a part in arranging these projects.
Looking further down the road - and a little further to our centenary year in 2022 - it is the wish of all members that Swinford Golf club will continue to be a venue where the game of golf is played - and more important - enjoyed. Many look upon golf as a competitive sport, others as a means of exercise and recreational enjoyment with our fellow members and friends.
Whatever our reason for playing this ancient and noble game, we ask of all those playing our course to treat it with the respect it deserves. The cost of maintaining golf courses continues to rise each year and it is thereby imperative that we all look upon it with pride and care.
Roll of Honour
Member
Year
Hon. Position
Sadie Durkan
1989
Ladies Captain
Brenda Coyne
1989
Ladies President
Patrick O'Connor
1989
Men's Captain
Paddy Dyer
1989
President
Mary Gallagher
1990
Ladies Captain
Fidi O'Farrell
1990
Ladies President
Kevin Geraghty
1990
Men's Captain
T. O'Connor
1990
President
Anne King
1991
Ladies Captain
Margaret Killalea
1991
Ladies President
Greg Foley
1991
Men's Captain
Paudge Grealy
1991
President
Anne Darcy
1992
Ladies Captain
Mick Doyle
1992
Men's Captain
Donal Benson
1992
President
Josie Prendergast
1993
Ladies Captain
Aine Ruane
1993
President
Tony Spain
1993
Men's Captain
Anne Prendergast
1994
Ladies Captain
Padraig Gannon
1994
Men's Captain
Seamus Banks
1994
President
Kathleen Lambe
1995
Ladies Captain
Andy Chapman
1995
Men's Captain
Nancy Holmes
1995
President
Brenda Coyne
1996
Ladies Captain
Michael Walsh
1996
Men's Captain
Owen O'Neill
1996
President
Margaret Killalea
1997
Ladies Captain
John Kelly
1997
Men's Captain
Mary Mannion
1997
President
Eilish Gallagher
1998
Ladies Captain
Vincent Timoney
1998
Men's Captain
Michael Ronayne
1998
President
Ellen Moran
1999
Ladies Captain
Martin McNeela
1999
Men's Captain
Mary Horkan
1999
President
Annie McNeela
2000
Ladies Captain
Jimmy Biesty
2000
Men's Captain
John Casserly
2000
President
Esther Munnelly
2001
Ladies Captain
Matt Duggan
2001
Men's Captain
Marie O'Neill
2001
President
Mary Doyle
2002
Ladies Captain
Tom Regan
2002
Men's Captain
Eamon Ring
2002
President
Breege Spain
2003
Ladies Captain
Kevin Quinn
2003
Men's Captain
Mai Quinn
2003
President
Julia Loftus
2004
Ladies Captain
Martin Munnelly
2004
Men's Captain
Martin McNeela
2004
President
Bernie Walsh
2005
Ladies Captain
Gerry Ronayne
2005
Men's Captain
Anne Prendergast
2005
President
Carmel Timoney
2006
Ladies Captain
Niall O'Neill
2006
Men's Captain
Tony Spain
2006
President
Valerie Clarke
2007
Ladies Captain
John Sheahan
2007
Men's Captain
Anne Farren-King
2007
President
Catherine Loftus
2008
Ladies Captain
Jim O'Donnell
2008
Men's Captain
Anne Farren-King
2008
President
Margaret McNicholas
2009
Ladies Captain
Ronan Monaghan
2009
Men's Captain
Josie Groarke
2009
President
Bernadette Casey
2010
Ladies Captain
Patrick Cunney
2010
Men's Captain
Robert Elders
2010
President
Bernadette Casey
2011
Ladies Captain
Patrick Marren
2011
Men's Captain
Adrienne Ring
2011
President
Patricia Feeney
2012
Ladies Captain
Kevin Feeney
2012
Men's Captain
Jim Biesty
2012
President
Siobhan King
2013
Ladies Captain
Padraig Garrahy
2013
Men's Captain
Anne McNeela
2013
President

Josie Prendergast

2014
Ladies Captain

Annie McNeela

2014
Lady President
Eugene Maloney
2014
Men's Captain

Caillin Gallogley

2014
President

Siobhan King

2015
Ladies Captain

Richard Ingam

2015
Men's Captain

Esther Munnelly



2015
President
Margarey Sweeney

2016
Ladies Captain
Martin Griffin

2016
Men's Captain
Luke O'Malley

2016
President
Mary Flanagan

2017
Ladies Captain
Cailin Gallogly

2017
Men's Captain
Mary Doyle

2017
President
Mary Horkan
2018
Ladies Captain
Philip Irwin
2018
Men's Captain
2018
President
Anne Prendergast
2019
Ladies Captain
Declan Munnelly
2019
Men's Captain
Anne Deacy
2019
President
Helen McNicholas
2020
Ladies Captain
Rob Thornburgh
2020
Men's Captain
Gerry Ronayne
2020
President
Helen McNicholas

2021
Ladies Captain

Simon Ronayne

2021
Men's Captain
Gerry Ronayne

2021
President

Ann Moore

2022
Ladies Captain

Breege Spain

2022
Lady President

Doug Cairns

2022
Men's Captain
Brian

Turbitt

2022
President
Margaret Haran
2023
Ladies Captain
2023
Lady President
Sean Comer
2023
Men's Captain
Bernie Walsh
2023
President
2023
Lowest Ladies H'cap
Gerry Ronayne (2.9)
2023
Lowest Men's H'cap
Holes in One at Swinford
| | | | | |
| --- | --- | --- | --- | --- |
| Member | Date | Hole No. | Club Used | Distance |
| Cathal Quinn | 18 May 2002 | 13th | | 194 m |
| John Rooney | 13 August 2006 | 7th | Albatross | 309 m |
| Kevin Quinn | 21 July 2007 | 4th | | 159 m |
| C. Quinn | 30th August 2015 | 17th | | 137 m |