Antrim golf club
Antrim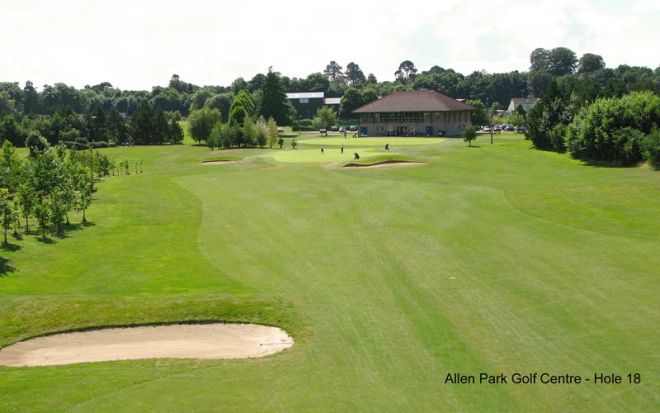 Antrim Golf Course

Opened in 1997, designed by Tom McAuley Allen Park Golf Centre measures 6,636 yards off the white stakes with a Par of 72 and standard scratch to match. The ladies tee is 4,591 yards with a slightly more benevolent standard scratch of 71. Allen Park is a Local Authority Golf Development situated on 143 acres the course has three man-made lakes which enhance this gentle undulating golf course. All greens are constructed to the highest quality U.S.G.A. Specifications. The big hitters can let loose on the 5th "PlasketsBurn" and the 6th "The Gap" however don'tbe fooled these two Par 5 are stroke index 5 and 1 respectively. This fine complex provided by Antrim Local Authority is designed to provide a comprehensive golfing complex on the outskirts of the town. The visitor is, assured of a warm welcome and a testing and enjoyable days golf at a very reasonable green fee for a course of this calibre, indeed the Ulster Branch of the GUI selected this course for the staging of the Qualifying rounds of the Jimmy Bruen Shield in 2004.
| | |
| --- | --- |
| Green Fees Midweek: | £19 |
| Green Fees Weekends & B.H. | £21 |
| Green Fees with a Member: | £16/18 |
| Green Fees for Opens: | £8 |
| Practice Area: | Yes |
| Club Hire: | Yes |
| BuggyHire: | Yes |
| Soft Spikes: | No |
Secretary/Manager
Marie Agnew
Captain:
Brian A. Moore

Lady Captain:
Vicki Peacocke

President:
Ken White
Boys Captain:

Jos McKee

Girls Captain:

Rachel McAuley-Hughes

Vice-Captain:

David Glass & Marion McAlister



Hon. Secretary:

Kenny Lee

& Audrey Finlay

Club Pro:
Maurice Kelly 048-94-429001
Hon. Treasurer:

Bob Tweedale

& Ethne Totten

Comp. Secretary:
Victor Watson Jnr.

Course Layout
Location Map
GPS Coord*
Lat:54.790890
Long:-6.988335
*Please check information before travelling
General Facts & Information
| | |
| --- | --- |
| Course opening hours:Daylight hours | Clubhouse opening hours:am to pm |
| Mobile phones:Not on course | Dress Code:Neat and casual, no denim |
| Catering:Full catering, facilities | Days to Avoid:Weekends after 11.00am |
| Green Fees and Societies Welcome: Other Days | Pre-booking for open Tournaments: 14 Days in advance |
Antrim Golf Club Fixtures 2019 provisional*
| | | | | |
| --- | --- | --- | --- | --- |
| Open & Major Fixtures 2019 (to be Confirmed) | | | | |
| Event | Start | Finish | Type | Duration |
| Captain's Drive-in | Saturday 6 April | | Closed | 1 |
| Lady Captain's Prize | Saturday 15 June | | Closed | 1 |
| Captain's Prize | Saturday 15 June | | Closed | 1 |
| President's Prize | Saturday 17 August | | Closed | 1 |
| Arthristis Care Classic | Saturday 4 May | | Open | 1 |
| Jummy Bruen Shield (Q) | Sunday 5 May | | GUI | 1 |
| Riverside School Classic | Saturday 6 July | | Open | 1 |
*Please check information before travelling
Card of the Course
| | |
| --- | --- |
| White | Par 72 SSS 72 6,632 yd's |
| Yellow | Par 72 SSS 71 6,343 yd's |
| Red | Par 72 SSS 71 5,491 yd's |
Card
| | | | | | | | | |
| --- | --- | --- | --- | --- | --- | --- | --- | --- |
| HoleName | HoleNo. | White | Yellow | Par | index | Red | Par | index |
| Enkalon | 1 | 432 | 421 | 4 | 9 | 352 | 4 | 9 |
| The Bunker | 2 | 291 | 281 | 4 | 13 | 252 | 4 | 13 |
| Umry Lodge | 3 | 321 | 311 | 4 | 17 | 277 | 4 | 17 |
| Oak | 4 | 323 | 304 | 4 | 15 | 259 | 4 | 15 |
| Plaskets Burn | 5 | 505 | 490 | 5 | 5 | 438 | 5 | 5 |
| Gap | 6 | 562 | 547 | 5 | 1 | 453 | 5 | 1 |
| The Lake | 7 | 180 | 156 | 3 | 7 | 148 | 3 | 7 |
| Carnearny | 8 | 452 | 437 | 4 | 3 | 355 | 4 | 3 |
| Swanisland | 9 | 431 | 378 | 4 | 11 | 363 | 4 | 11 |
| | Out | 3,498 | 3,325 | 37 | | 2,897 | 37 | |
| Tardree | 10 | 421 | 410 | 4 | 10 | 339 | 4 | 10 |
| Sunset | 11 | 199 | 185 | 3 | 14 | 173 | 3 | 14 |
| Milltown | 12 | 407 | 388 | 4 | 4 | 323 | 4 | 4 |
| Oriel Lodge | 13 | 485 | 473 | 5 | 12 | 400 | 5 | 6 |
| Kilbegs | 14 | 534 | 523 | 5 | 2 | 449 | 5 | 2 |
| Fairy Thorn | 15 | 129 | 119 | 3 | 18 | 103 | 3 | 18 |
| Chimney Corner | 16 | 368 | 354 | 4 | 16 | 314 | 4 | 16 |
| The Bridge | 17 | 199 | 184 | 3 | 8 | 171 | 3 | 8 |
| Valley | 18 | 392 | 382 | 4 | 6 | 322 | 4 | 12 |
| | in | 3,134 | 3,018 | 35 | | 2,594 | 35 | |
| | Total | 6,632 | 6,343 | 72 | | 5,491 | 72 | |
| | SSS | 72 | 71 | | | 71 | | |
Notable rounds
Men's Course Record: Jimmy Hegarty
Ladies Course Record:
Members Achievements
History of Antrim
Founded1997
Roll of Honour
Member
Year
Hon. Position
Jim Fulton
1997
Men's Captain
Joe Boyle
1997
President
Jim Fulton
1998
Men's Captain
Joe Boyle
1998
President
Derek Brett
1999
Men's Captain
Joseph McArdle
1999
President
2000
Ladies Captain
2000
Men's Captain
2000
President
2001
Ladies Captain
2001
Men's Captain
2001
President
2002
Ladies Captain
2002
Men's Captain
2002
President
2003
Ladies Captain
2003
Men's Captain
2003
President
Bridie Reid
2004
Ladies Captain
Colin Davis
2004
Men's Captain
Sam Forbes
2004
President
Joan Browne
2005
Ladies Captain
Victor Watson
2005
Men's Captain
William Crandles
2005
President
2006
Ladies Captain
2006
Men's Captain
William Crandles
2006
President
Eithne Tottem
2007
Ladies Captain
Brian Johnston
2007
Men's Captain
William Crandles
2007
President
Lelia Close
2008
Ladies Captain
Kenny Lee
2008
Men's Captain
John Condie
2008
President
Margaret McKay
2009
Ladies Captain
Peter Lennon
2009
Men's Captain
Tom Montgomery
2009
President
Georgina Patchett
2010
Ladies Captain
David Robinson
2010
Men's Captain
Tom Montgomery
2010
President

Georgina Patchett

2011
Ladies Captain

Alan Lyttle

2011
Men's Captain

Ivor McNally

2011
President

Kathleen Thornton

2012
Ladies Captain

David Hamilton

2012
Men's Captain

Ivor McNally

2012
President

Joe Connore

2013
Ladies Captain

Ricky Galloway

2013
Men's Captain

Gerry McAllister

2013
President
Kathleen Thornton
2014
Ladies Captain
David Lyttle
2014
Men's Captain

Gerry McAllister

2014
President
J

im Fee

2015
Men's Captain

Joe Dunne



2015
President

William Clelland



2016
Men's Captain

Joe Dunne

2016
President

Mark Moore

2017
Men's Captain
2017
President
Kim Short
2018
Ladies Captain
Tony Hughes

2018
Men's Captain
2018
President
Vicki Peacocke
2019
Ladies Captain
Brian A. Moore
2019
Men's Captain
Ken White
2019
President
2019
Lowest Ladies Handicap
2019
LowestMen'sHandicap
Holes in One at Antrim
| | | | | |
| --- | --- | --- | --- | --- |
| Member | Date | Hole No. | Club Used | Distance |
| Eddie McMullan 2005 | | 11th | 5-Iron | 181 yd's |
If you have had a Hole-in-One on your course and would like it recorded here please contact me on go.golfing@yahoo.ie
Giving your name, the date,the hole, the club used and the distance